An EV with two-way charging to power external loads can change the entire energy dynamic. Will 2022 be the year that bidirectional cars become mainstream?
A refresher on bidirectional EVs
An electric car derives its energy from power stored inside large batteries installed along the floorboard of the vehicle. Standard EV chassis are thus known as "skateboards."
The amount of power stored by the batteries is measured in kilowatt-hours (kWh), which helps drivers measure the "volume" of electricity needed for a full charge just like the size of a fuel tank in a gas-powered car indicates how many gallons of fuel are needed to fill it.
We encounter electrical devices big and small every day, with more and more plug-in products appearing on the market. There are only so many power outlets available to charge or run these, especially outside the home.
This is why bidirectionality is a natural next step for EVs. Bidirectional EVs are handy when normal power outlets are in short supply (think remote job sites) and will become staples of the home, protecting families against utility outages.
Your home power consumption is already measured in kWh, allowing you to easily translate battery capacity into the number of hours available to you during an outage. Residents of New York State and California consume around 20 kWh of electricity per day, lower than the US average of 30 kWh per day. The average base battery capacity of the electric vehicles mentioned in this list is over 60 kWh.
Prepare to see more acronyms that relate to bidirectional vehicles like V2H (vehicle-to-home), V2G (vehicle-to-grid), V2L (vehicle-to-load) and even V2V (vehicle-to-vehicle charging) appear in everyday life.
Unlock EV energy with these CHAdeMO vehicles
True bidirectionality over direct current (DC) is a feature of vehicles built to the Japanese CHAdeMO charging specification, most of which are available in Europe and Asia. You can tell if a vehicle uses this standard by the distinctive shape of its charging inlet: compass-shaped with circular pins at each cardinal point.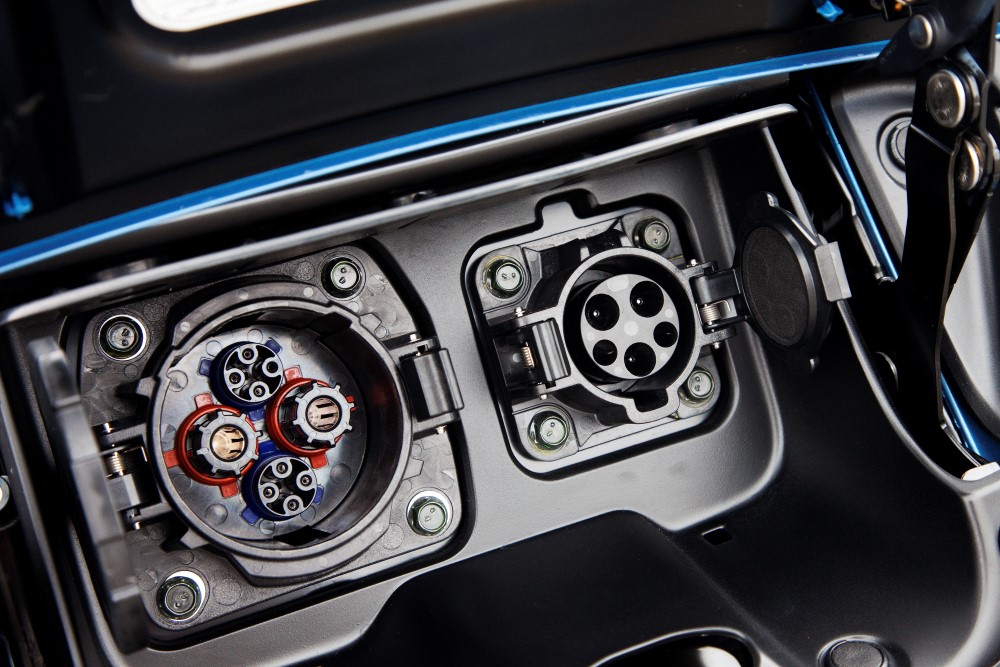 While the popularity of CHAdeMO is diminishing in the US in favor of the CCS charging protocol, three vehicles stand out as prime examples of bidirectional cars available now, with V2H and V2G functionality you can leverage via a Home Energy Station.
Nissan Leaf
First introduced in 2010, the Nissan Leaf pioneered the V2H concept and is still in production as of this writing. Up until 2020, it was the world's top-selling EV of all time. The first-generation Leaf featured a bulbous body style and came with a 24-kWh battery, with an optional 30-kWh battery available beginning in 2016.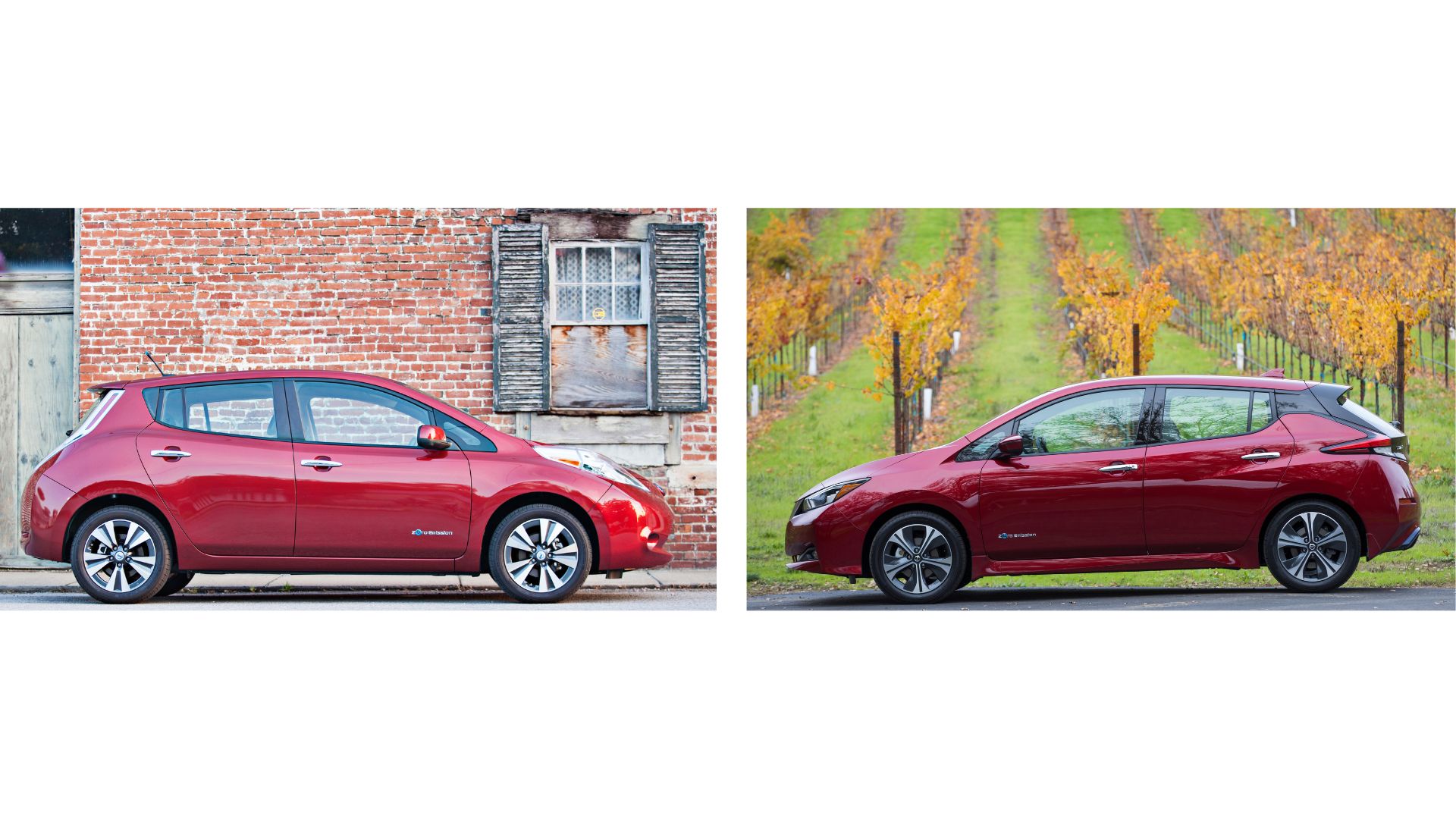 The second-generation Leaf, launched for the 2018 model year, uses a more conventional design language for the exterior and comes with either a 40 or 62-kWh battery. This model introduced one-pedal driving, along with more horsepower and torque.
Kia e-Soul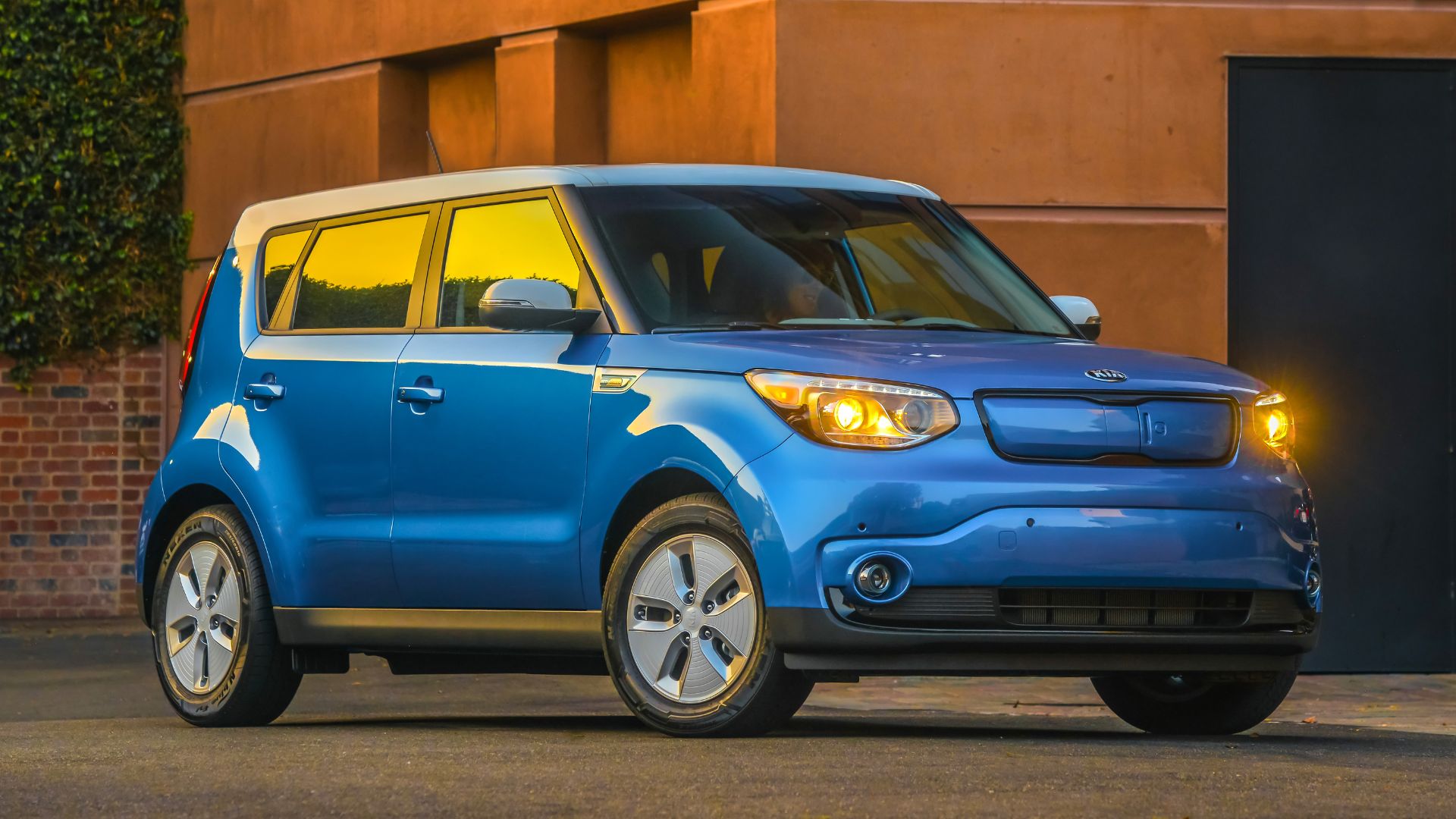 The Kia Soul subcompact crossover is another enduring vehicle popular around the world. Kia opted to build the electric variant to the CHAdeMO spec from its debut in 2014 up until the 2019 model year. This means a used e-Soul, with its 31-kWh battery, is capable of V2H from the get-go.
Mitsubishi Outlander PHEV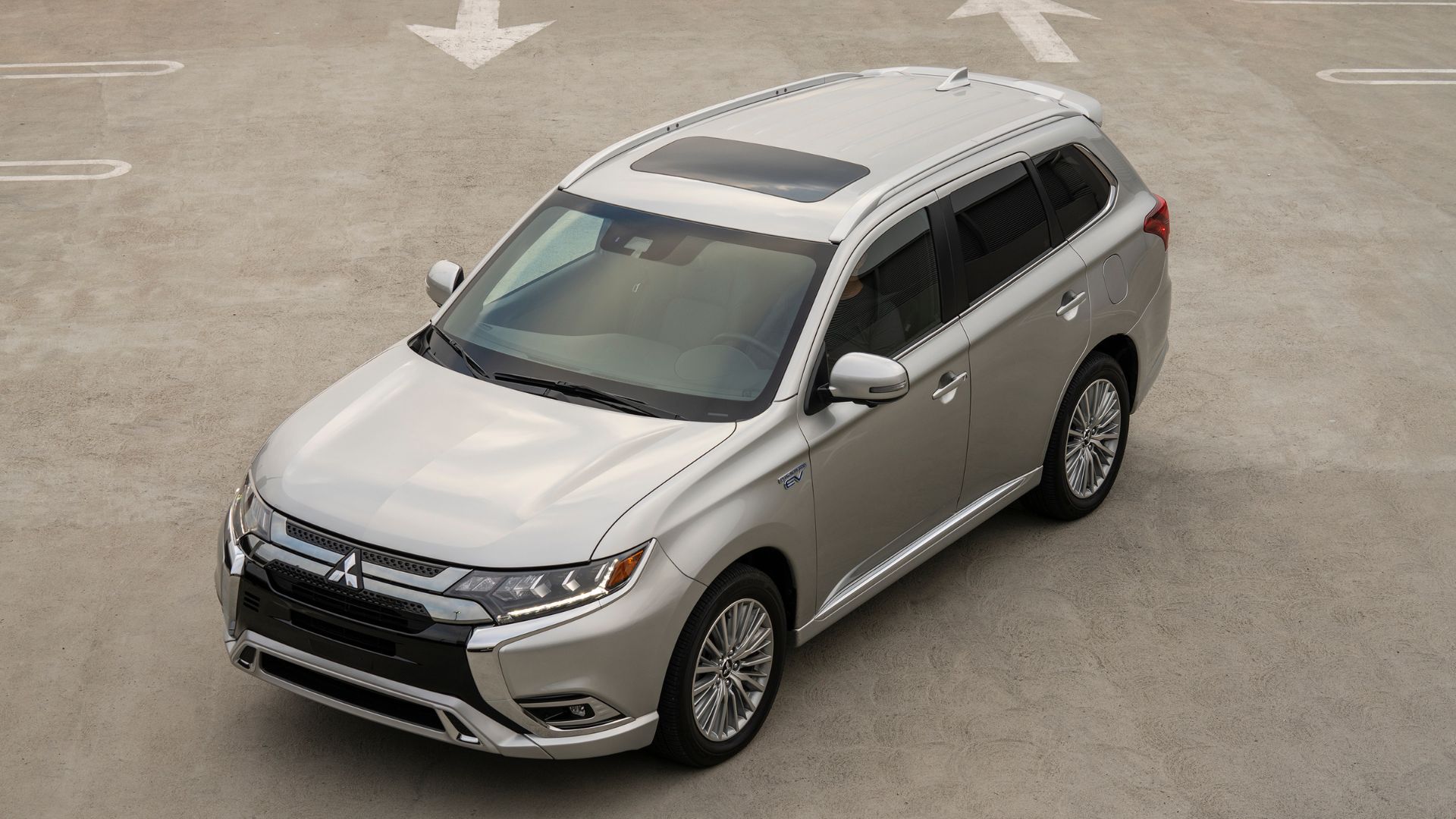 The Outlander's lineage can be traced all the way back to 2001. The plug-in hybrid model, which features a CHAdeMO charging inlet, made its US debut in 2016 and offers a small battery that provides nearly 40 miles of driving range, or under 10 hours of emergency V2H power. The Outlander PHEV makes zero-emission neighborhood commutes possible, and a fast-charger can replenish the battery in around 30 minutes. Being a hybrid, the car also has a gasoline engine used to recharge the batteries or power the vehicle directly.
Want a taste of bidirectionality in 2022? Check out these EVs.
Fisker Ocean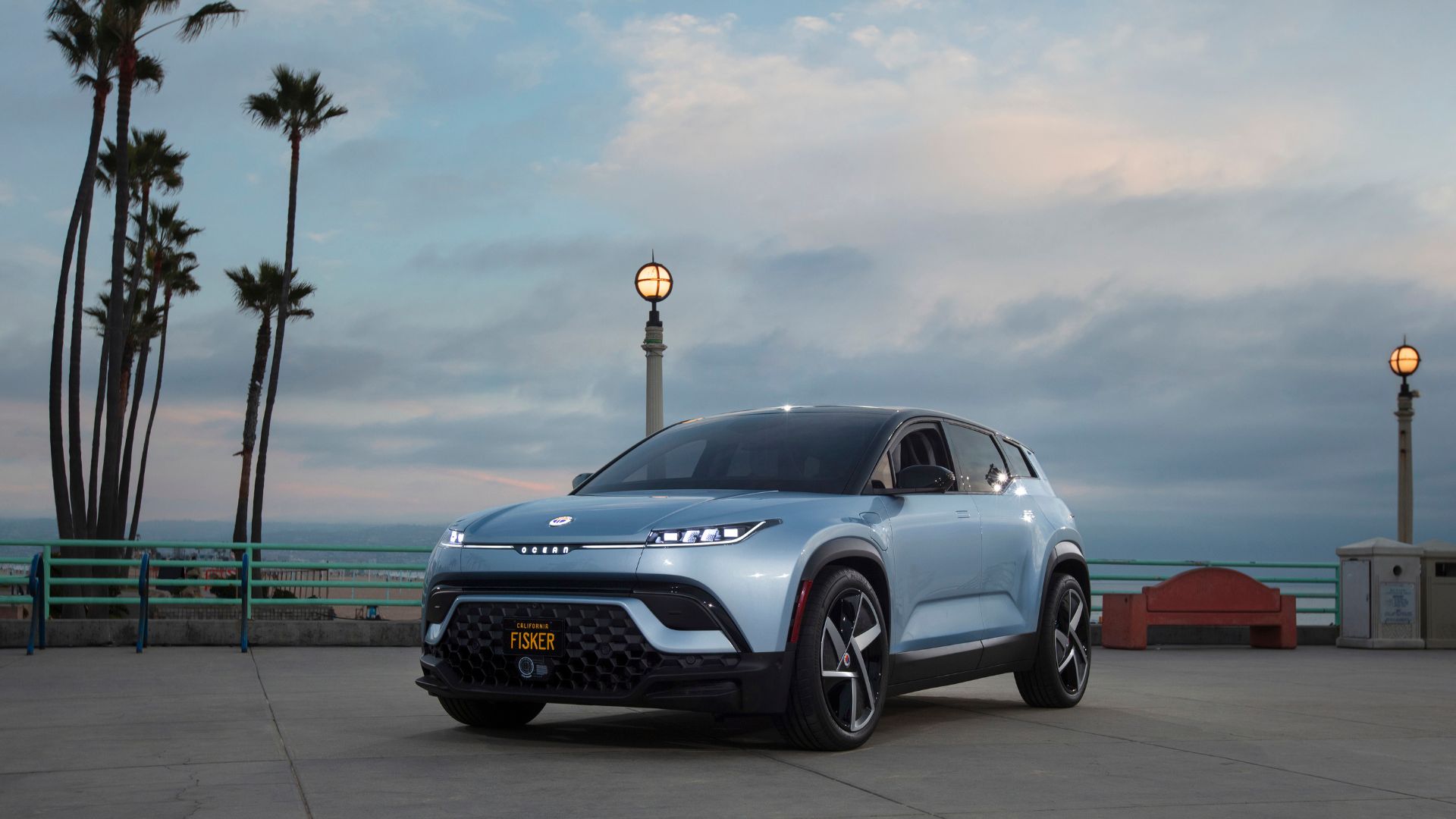 We may finally see the Fisker Ocean on the road by the end of 2022. The all-electric SUV is the brainchild of automotive icon Henrik Fisker, known for designing the legendary BMW Z8 and the world's first luxury plug-in hybrid, the Fisker Karma.
His company is making a comeback with the Ocean, but information on the vehicle remains limited. What we do know is that customers who opt for higher trim levels can get a roof embedded with solar panels, a center screen that can swivel for portrait or landscape viewing, over 300 miles of driving range and other high-tech goodies. The battery in the base vehicle has a range of 250 miles and Fisker claims V2H will be possible, which could make it a hot seller, especially when it costs under $30,000 after incentives are factored in.
Ford F-150 Lightning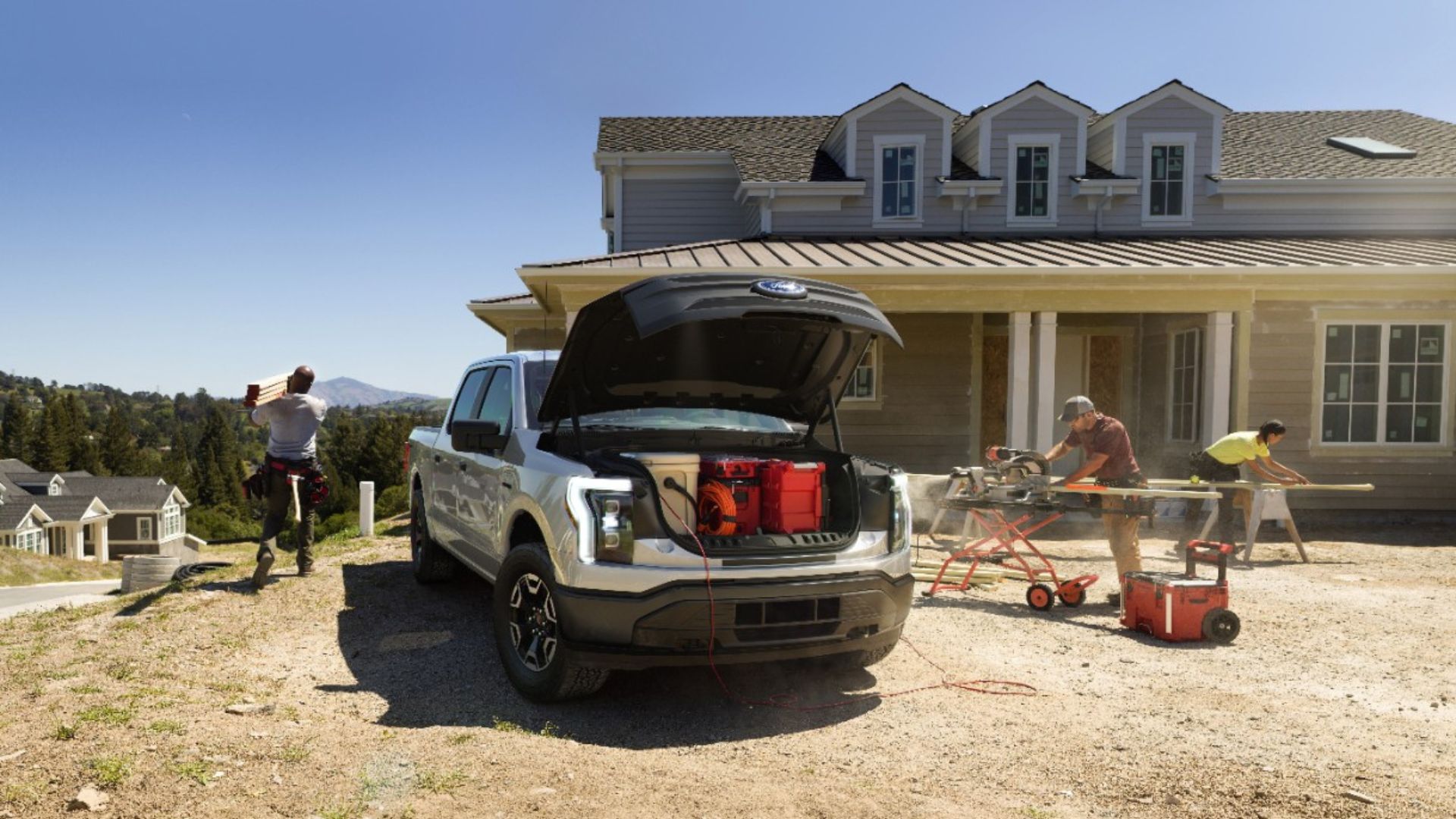 The F-150 has been America's hottest pickup truck for 44 years running, and now Ford is hoping that adding electrification to the mix will make this workhorse even more versatile. Features like three days' worth of V2H backup power, V2V charging, ten standard onboard power outlets and one onboard 240V outlet all help achieve that goal. Deliveries should begin in spring of 2022, but getting your hands on one may prove difficult: the Electrek blog claims the truck is already sold out into 2024.
Genesis GV60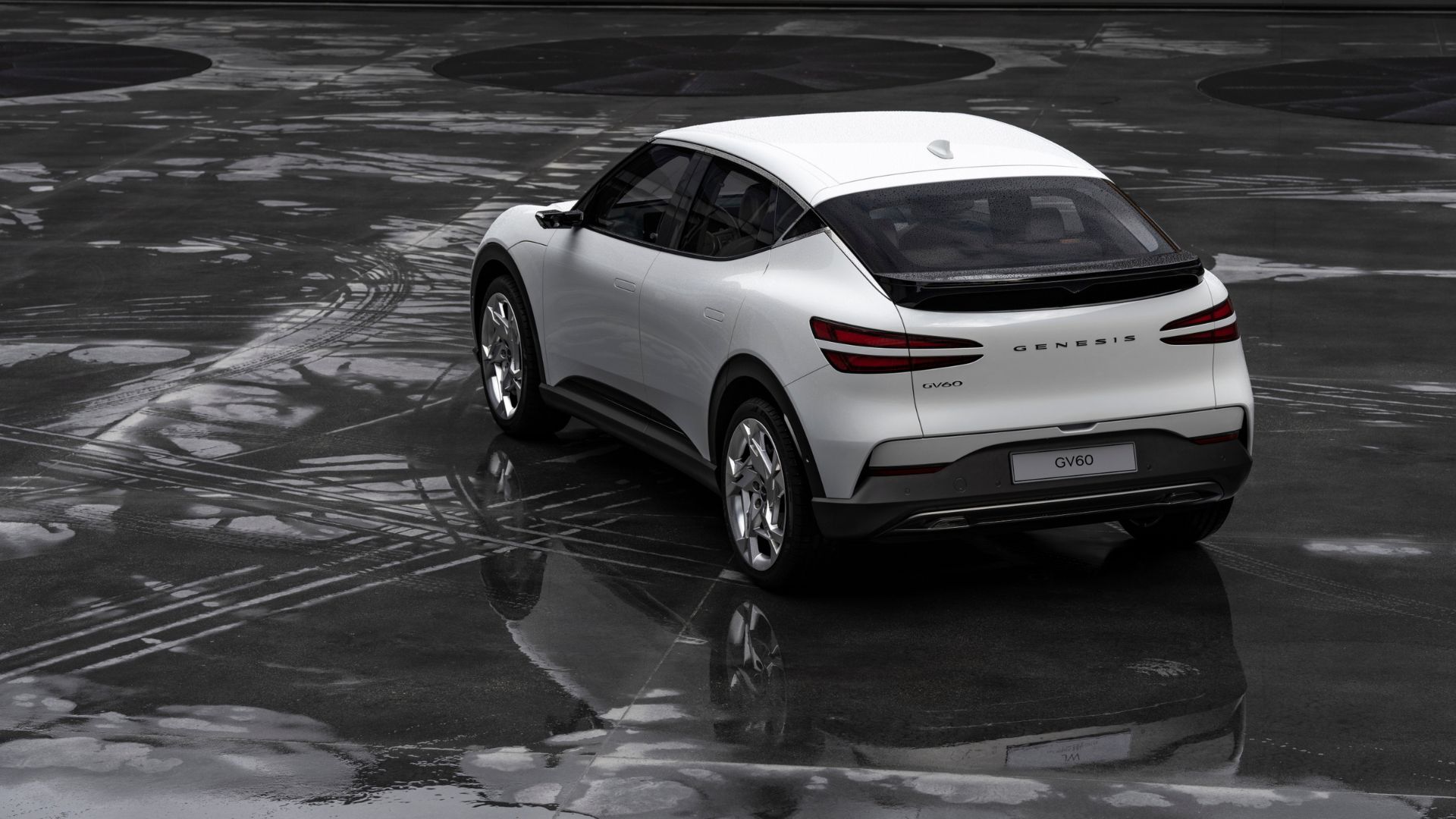 The "skateboard" chassis that makes up the core of this luxury crossover SUV is Hyundai's Electric Global Modular Platform, which will also be used in the Hyundai Ioniq and Kia EV lines of compact crossovers. The GV60 is the luxury brand's first dedicated EV model and features a 77.4 kWh battery that can support vehicle-to-load (V2L), meaning that electric appliances can be powered by the vehicle using an adaptor. We also like the colorful crystal sphere sitting in the center console, which spins around to reveal the electronic gear selector when it's time to hit the road.
Hyundai Ioniq 5 and Kia EV6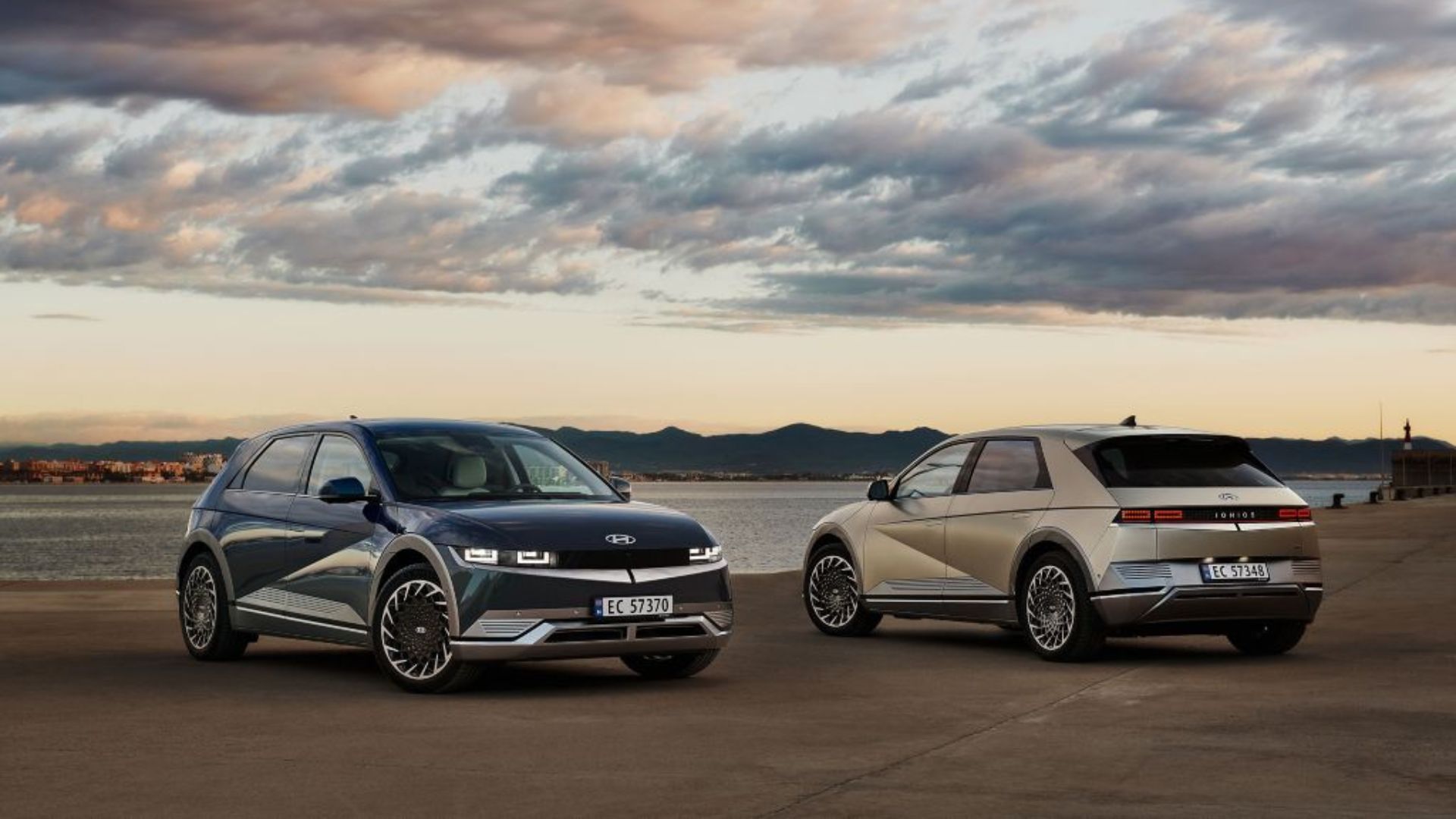 The Hyundai Ioniq 5 can output 3.6 kW of power for V2L applications. This vehicle also provides a prime example of the maximized interior space in a typical EV. With flat battery packs replacing large drivetrain components of gas-powered cars like the engine, transmission and driveshaft tunnel running the length of the car, designers have more space to work with.
Case in point: The "compact" Ioniq 5 has a long wheelbase – four inches longer than the gas-powered Hyundai Palisade SUV, which has three rows of seating – resulting in more legroom and the same amount of cargo space as a Mustang Mach-E. Plus, front seat occupants can exit the vehicle from either side after sliding the center console rearward, something that can't be done in a gas-powered car. In short, an EV that looks small on the outside is roomier than you'd think on the inside!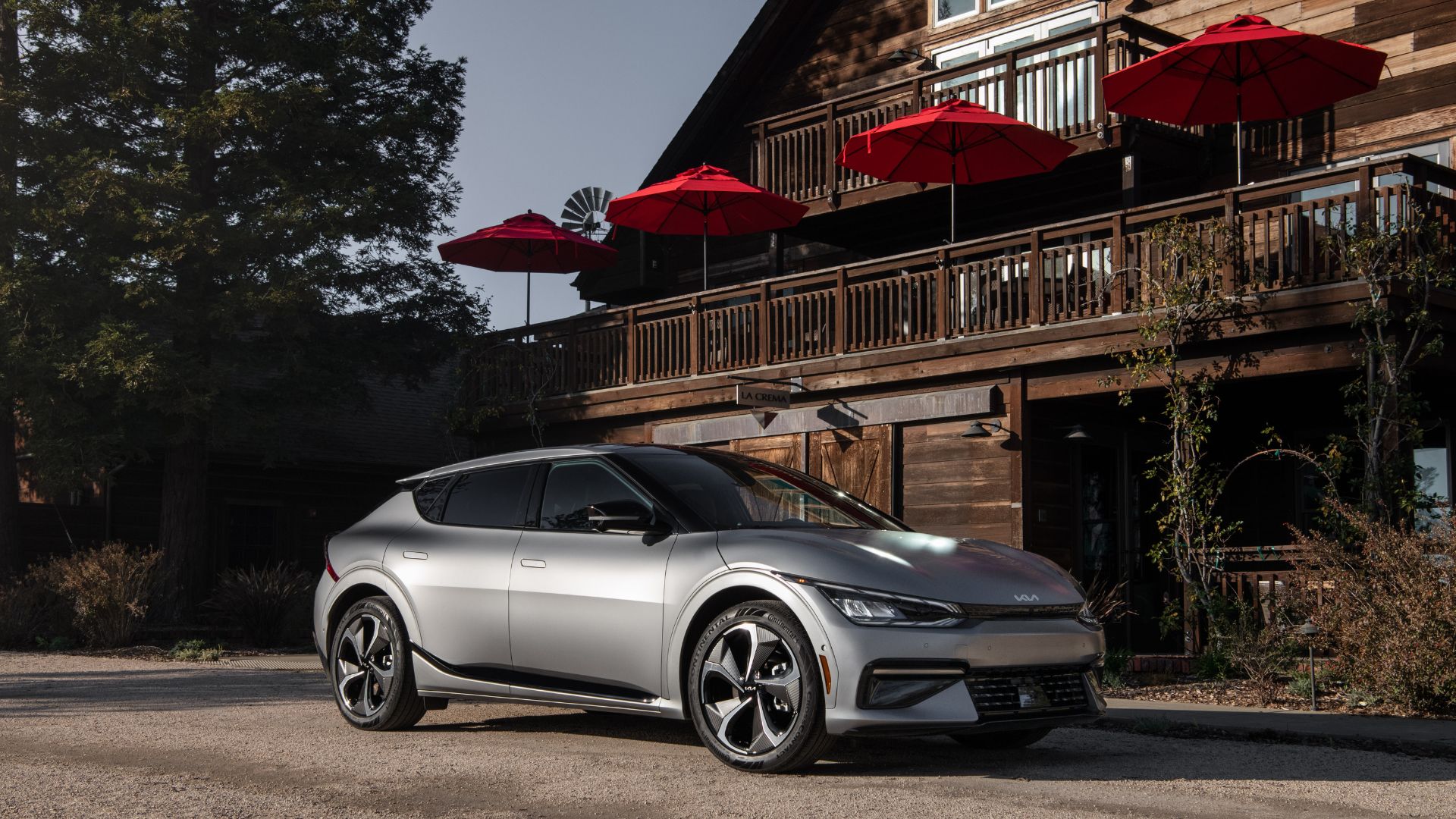 Kia's sporty new compact crossover borrows Hyundai's modular platform, so it too promises up to 3.6 kW of V2L power transfer and V2V capability. While it's a sibling of the Ioniq 5, the EV6 is slightly more efficient than the Hyundai due to its more aerodynamic shape.
Both vehicles are competitively priced. The EV6 starts at $42,115, while the Ioniq 5 has a base price of $44,895.
When will bidirectionality be enabled over CCS charging?
The cars listed above use CCS charging ports, which are vastly more common but don't support CHAdeMO-style bidirectional power flow yet. So how can automakers promise these features in 2022? It's because they included additional power inverters under the hood and are outputting alternating current (AC) to satisfy the load through special adapters or standard 120V power outlets. Modern gas-powered cars sometimes have a few built-in power outlets as well. These components are not strong enough to power a home on their own, or sophisticated enough to send power back into the grid. But if you're craving convenience on a camping trip, they will come in handy.
But make no mistake: Having the power inverter located outside the car is more efficient since it allows EVs to be lighter and less expensive. Another benefit of an external inverter like dcbel r16 is that it's more powerful than any device built into a car. It can tie together EV charging, solar power, stationary battery management, outage protection and smart home energy management all in one small wall-mounted package.
Once the CCS protocol is formally revised, the majority of EVs in North America will be able to send high-voltage DC power straight from the car's battery to a Home Energy Station via a proper charging cable, at which point it will be converted to AC that can be used to power the home and potentially be sold back to the grid.
This is no small feat, evidenced by the fact that there are so few bidirectional chargers on the market. But it's what drives dcbel as a company. Our patented power conversion equipment can handle a higher power output and convert it with more efficiency over the standard approach in the industry.
The tip of the iceberg
The bidirectional experience for car-buyers in 2022 only represents a fraction of what is possible. Once CCS protocols support true bidirectional power flow direct from the battery, high-demand applications like V2H and V2G will be accessible to all.
For now, people who want these features need to buy a vehicle with CHAdeMO chargers or wait until the CCS charging protocol is formally revised. Luckily, folks can start to get a taste of bidirectional power thanks to some EV manufacturers using higher voltage architecture and charger inlet workarounds.
Meanwhile, dcbel Home Energy Stations are future-proofed for V2H and V2G over CCS, and a small over-the-air update will unlock this feature for customers as soon as it's ready.