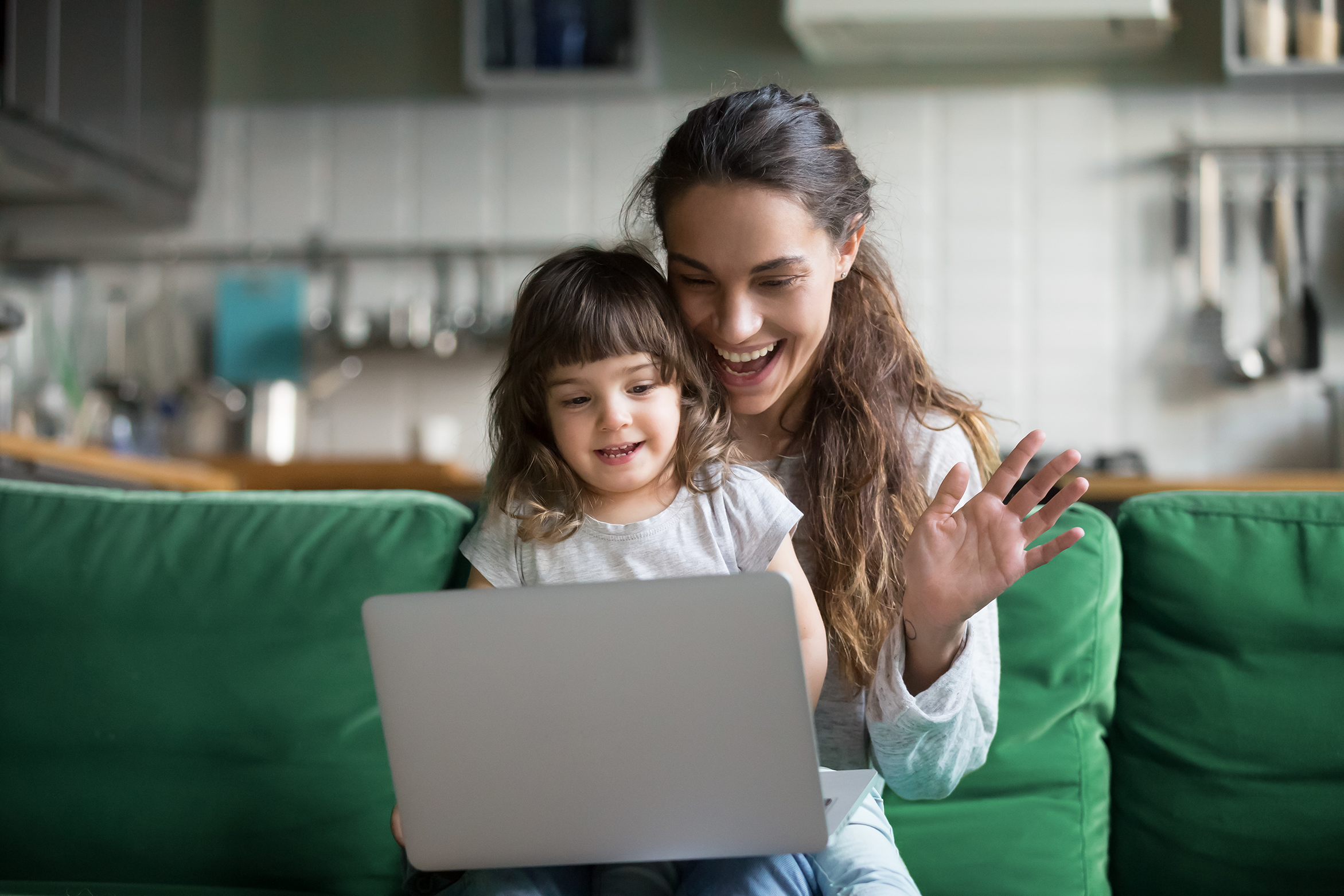 By dcbel
Let's talk for a few minutes about Operating Systems (OS)— Windows, MacOS, Linux, Android, iOS, and so on—many of which have become indelibly associated in our minds with their corporate progenitors and have attained "household name" status over their respective lifetimes and ours. We intend to introduce a new name to your household today, but first: May we come in?
Giving Props to the OS
Though it is hardly the type of thing most us spend a great deal of time thinking about, we all encounter one or more operating systems throughout the course of our daily activities:
At the office, school, or home—for work, educational, and recreational purposes.
On the move with our mobile devices, for communication, social media, and mobile computing.
Paying for our groceries with a Point-of-Sale (POS) system.
Ordering lunch with a virtual menu system.
And every other transaction we perform involving computers. And what doesn't these days?
We tend to not even give the lowly OS a second thought. We just know that if it weren't there on our computer—toiling away thanklessly—nothing would work. (And lunch would just not be the same!)
Yet, an operating system is the single most important software that runs on our computers:
It manages the machine's memory and processes and all its software and hardware.
It coordinates the operation of the many complex programs running on your computer, ensuring that each program gets what it needs to get the job done.
It allows us to communicate with the computer without knowing how to speak its language and know its complexities and subtleties.
At dcbel, we know that managing your energy ecosystem properly—delivering optimum efficiency and yielding maximum savings—can be an equally complex and daunting task.
There are many conditions to evaluate, micro-decisions to make and actions to be taken at every second. Ensuring that these decisions are made intelligently and backed by data can make a material difference to your utility bill. You wouldn't buy a computer without an OS so why should you settle for less when it comes to your energy technologies?
As the innovators behind dcbel™, the world's first Smart Home Energy Appliance, dcbel transports the robust functions of an OS from the computing world into the world of home energy management with Orchestrate™ OS, 100% built from the ground up by our team of experts.
What is Orchestrate™ OS?
Orchestrate™ OS is the proprietary operating system developed by dcbel that uses AI-based analytics to learn your energy use patterns and adapt its decision-making to your specific life.
As an integral component of the dcbel system architecture—along with the dcbel™ unit and our proprietary Chorus IoT platform—Orchestrate™ OS allows the deployment of applications (APPs) to provide a variety of different services or analytics as a Local APP or Chorus Hosted APP:
Local APPs are time-critical applications or services that must always be available even during a telecom blackout. Local APPs reduce cloud computing costs and are well-suited for single thread CPU intensive calculations that do not rely on immense amounts of data.
Hosted APPs, however, are non-time critical, data-intensive or communication APPs that are well suited to be deployed as cloud services via Chorus™.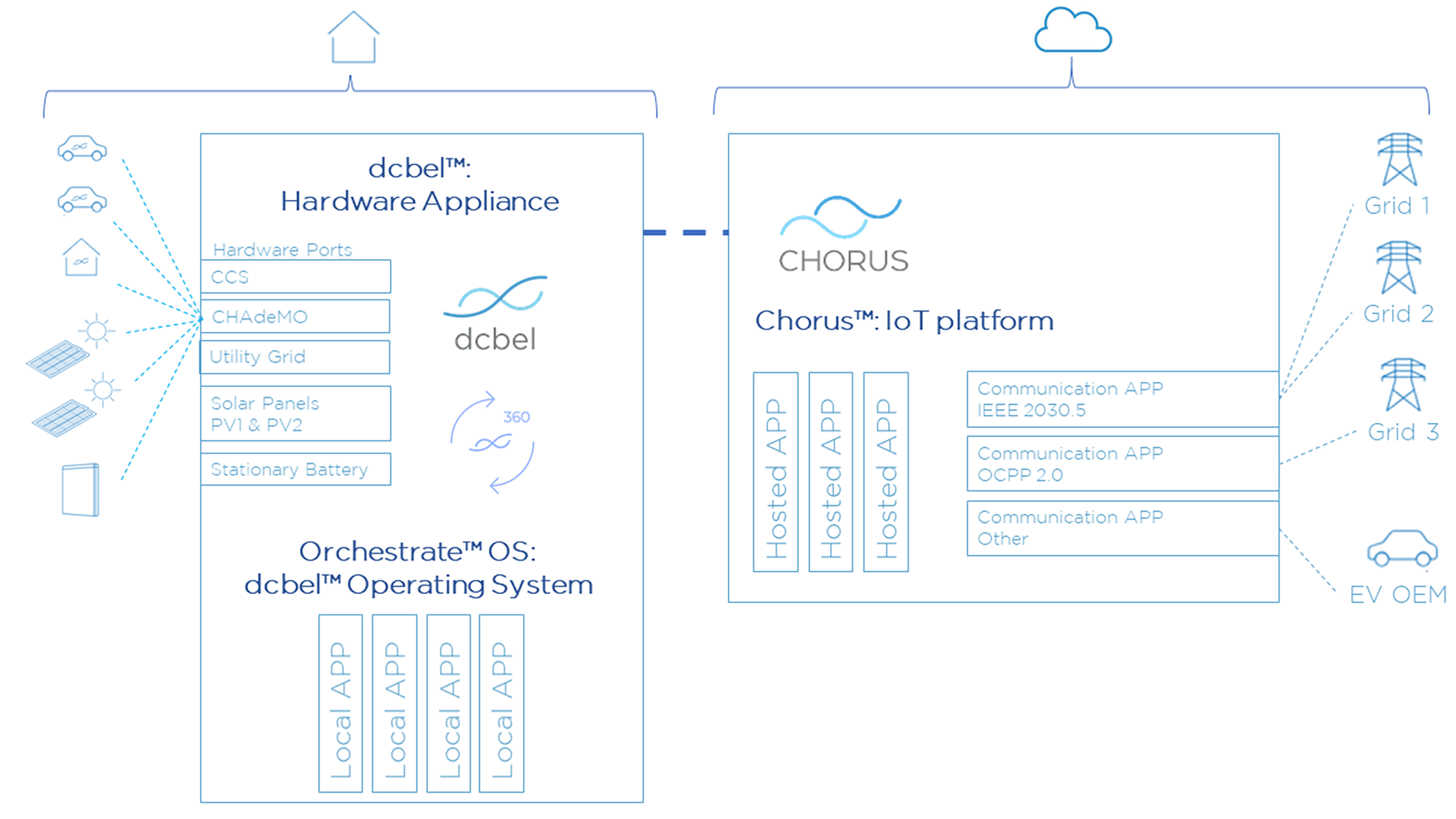 Running data transactions locally (instead of in the Cloud) can reduce data costs by more than 60% and deliver enhanced reliability over traditional cloud-only or blockchain platforms.
If it seems like Orchestrate™ OS is managing thousands of little moving parts, that's because it is. Orchestrate™ OS is designed and created by considering every relevant energy parameter, down to the most minute detail, to ensure the complete and accurate computation and optimal efficiency of your energy ecosystem.
Here are just a few of the local apps made available with Orchestrate™ OS, with several more under development:
Solar Generation Forecast: A rolling calculation of the expected solar generation of your PV system down to the minute.
Load Forecasting: A rolling calculation of the expected power demand (load) for your home using your load history and computing the expected power demand for a rolling set of micro time periods. Short, medium and long-term load forecasting can help your power utility, CCA or EsCo estimate aggregate loads to make better decisions on how to manage their energy supply and avoid producing or purchasing more energy than is needed.
Battery Degradation Costs: Calculating the cost of charging and discharging your stationary battery or EV over time. A critical consideration, as batteries do degrade over time and are not cheap to replace. Lithium-ion batteries can last 10 years or more so ensuring that they are managed in an optimal way can have a non-trivial impact on its lifespan.
Near-Real-Time Energy Optimization: Similar to automatic generation control (AGC) performing secondary control tasks on the power grid, the Near-Real-Time Energy Optimizer (aka dcbel™ Optimizer) ensures that your house load is always met and your EV is charged when needed while minimizing your homes energy costs and carbon footprint.
The optimizer considers all the above forecasts, as well as micro-weather forecasts, EV usage patterns, battery state of charge, other Distributed Energy Resources (DERs) availability, and generates the following key output schedules:
Economic Dispatch Schedule: The economic dispatch schedule shows the order of commitment of each energy resource for meeting the house load starting with the least expensive one and adding, as needed, the second least expensive, then the third, and so on.
Multi-Generation Dispatch Schedule: Like the Economic Dispatch Schedule, but the optimizer also considers the availability of a pool of energy resources of the same type such as several stationary batteries or two EVs.
Operating Reserve Schedule: When the power grid is on, the optimizer ensures that, whenever possible, the stationary battery or EV battery stores enough energy to provide power for a predetermined number of hours (or days) during a blackout. During a blackout, the optimizer will ensure that any surplus of solar energy is allocated for charging the battery.
Solar Generation Schedule: A schedule for allocating the solar generation where it is the most impactful at reducing the energy bill.
Battery Charge/Discharge Schedule: A battery charge/discharge schedule describing the energy profiles injected into the batteries or drawn from the batteries.
EV Charge Schedule: A schedule describing the energy profile to be used for charging the EV based on best practices for that make and model.
EV V2X Schedule: A vehicle-to-home and vehicle-to-grid schedule illustrating the energy profiles drawn from the EV battery and injected into the home and/or grid.
What's a Smart Device without Apps?
The dcbel™ App Store (coming in 2021) is a digital distribution platform, developed and maintained by dcbel, for approved external apps that add features and functionality to your system and integrate directly with Orchestrate™ OS.
Do you have an idea for a dcbel™ APP? We'd love to hear from you!