The US Energy Information Administration's (EIA) Annual Electric Power Industry report provides some fascinating insight into the duration and frequency of power outages across regions and specific states.
According to the latest data, the average American utility customer experienced over eight hours (492 minutes) of non-momentary electric interruptions in 2020, compared to 285 minutes in 2019.
We've crunched the reliability metrics, which list data for 2019 and 2020, to explore the reasons behind year-over-year performance decreases exhibited by some states.
The regions in red in the map below are those that suffered the largest year-over-year declines in reliability.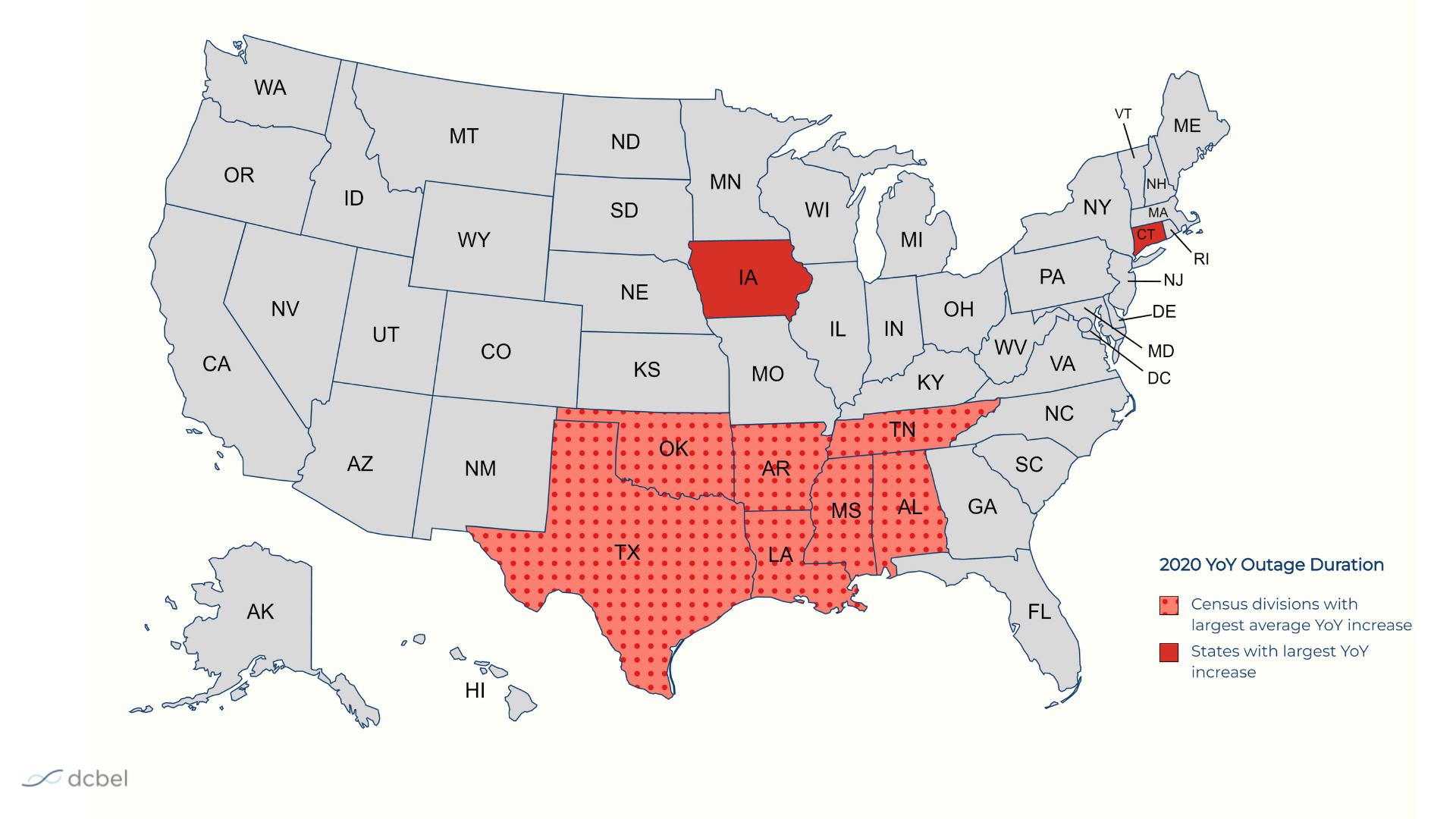 States grappled with intense storms 
East South Central: 15 average outage hours, a 235% year-over-year increase
Alabama and Mississippi, with 29 and 25 hours' worth of electric interruptions in 2020 respectively, were mainly responsible for the increase in this region's overall outage time.
Alabama's 900% increase in outage minutes was caused by some of the most significant weather events in state history. Severe weather in January led to a bumpy start. Then, on April 12, at least 24 tornadoes touched down statewide and caused 312,000 outages.
In the fall, hurricane season brought six major storms. Combined, hurricanes Sally and Zeta caused over a million outages alone.
All told, Alabama Power replaced 3,847 utility poles and repaired 31 transmission towers with the help of an additional 10,000 workers recruited from 25 states and Canada.
Neighboring Mississippi was not spared from severe weather. Hurricane Zeta was the worst storm since Katrina: it left 226,000 Mississippians without power in October 2020.
Tennessee saw a 120% increase in outage minutes in 2020. While Kentucky is part of this census division, we did not highlight the state on our map because outage minutes there were below the national average.
West South Central: 18.4 average outage hours, a 234% year-over-year increase
Two of the four states in this region, Louisiana and Oklahoma, saw outsized increases in outage minutes. In Oklahoma City and surrounding areas, a severe October ice storm left hundreds of thousands without power. Freezing rain, high winds and a nasty cocktail of winter precipitation caused severe tree and power line damage.
While Oklahoma experienced over 47 hours of power outages, Louisiana suffered over 60 hours largely thanks to two major hurricanes.
Hurricane Laura came first in the record-breaking 2020 Atlantic hurricane season, and along with 2021's Hurricane Ida, was the strongest to make landfall in Louisiana since 1856. Laura left over a million people in the state without power, some of them for months.
Six weeks later, Hurricane Delta struck the state and undid many repairs made following the previous storm.
Texas (7.2 hours) and Arkansas (11.8 hours) both felt the effects of these storms as they moved inward. Arkansas also experienced storms during Easter that left over 21,000 people without power.
Connecticut: 44 outage hours, a year-over-year increase of over 1,000%
Tropical Storm Isaias proved brutal in August 2020. It left up to 800,000 Connecticut residents in the dark, with some outages lasting over a week. Tens of thousands of dollars in food and medicine went to waste and downed power lines blocked roads, leaving vulnerable residents in a precarious situation.
More than three-dozen water systems relied on backup power, and one gas-powered generator ran out of fuel, shutting down a wastewater treatment center.
Many customers complained of inadequate response times from local utilities, which acknowledged that communication with town officials and residents could have been better and that digital information resources did not work as intended.
Iowa: 29.3 outage hours, a year-over-year increase of 1,332%
Iowa was hit with a derecho in August that affected over 400,000 people, with 70,000 still without power a week later.
A derecho refers to a straight-line wind storm that brings about a group of severe thunderstorms as well. Wind gusts of up to 140 mph, torrential rain and hail in some areas caused about $11 billion of damage. Downed trees damaged homes, buildings and power lines. Cleanup crews consisting of soldiers and ordinary neighbors all lent a hand.
Searching for solutions
Americans living in hard-hit regions are looking for reassurance that their electricity will be delivered reliably moving forward. More than just an inconvenience, extended power outages can be fatal as they expose vulnerable people to extreme temperatures that exacerbate underlying health conditions.
According to NASA, many scientists accept that as global temperatures increase, so do precipitation levels. Plus, hurricanes get stronger when the uppermost layers of the ocean become warmer.
Steven Schultz, a climatologist and assistant professor of Geography in the Department of Earth Sciences at the University of South Alabama, pointed to more homes and businesses being built every year in regions where the population is soaring. This leaves residents with "more to lose" when storms hit.
As such, there is increased focus on alternative methods of delivering electricity. One idea that is proposed regularly involves burying power lines underground, where they are not exposed to flying debris during a storm and can't be toppled down. This option can be five times more expensive than traditional overhead lines, so the cost tends to be subsidized by customers. It's not a foolproof solution: underground wires can be foiled by flooding and storm surges.
State officials, lawmakers, advocates, and even residents all have a say over how grid modernization efforts unfurl. Long-term solutions are needed to achieve better storm resilience, and should be incentivized. The grid is aging along with the business models that govern it, and advocates in states like Connecticut are urging for a performance-based funding of utilities.
New grid thinking
If the goal is to increase grid performance and reliability, utilities and regulators need insight on real-time metrics to continuously optimize electricity supply and demand. Connected electricity meters are therefore a must for every customer.
Some of the best ways of increasing grid resilience involve decentralized power distribution. Microgrids can decrease outage hours by isolating areas from widespread grid malfunctions. This works by moving different modes of power generation closer to the point of consumption. Benefits include more predictable demand, less energy wasted, and opportunities to deploy zero-emission electricity sources.
Fostering redundancy in the form of distributed energy resources (DERs) should also be strongly considered. Residential solar panels are the most common forms of DER. As a non-wire alternative, solar allows customers to produce their own energy. Not only does this protect them during an outage, but it also allows utilities to tap into a pool of excess clean power for the benefit of others.
Finally, harnessing the power stored inside electric vehicles (EVs) could be lifesaving during an extended power outage. The idea, known as bidirectional power flow, is currently gaining traction in the US. But vehicles equipped with CHAdeMO charge ports like the Nissan Leaf have been capable of this functionality for nearly a decade. EV batteries are large enough to supply two days' worth of energy to the average family home.
Safety is paramount
Take steps to protect you and your loved ones during storms. Be aware of weather warnings as they are put into effect, review emergency plans with your family, and ensure your storm preparedness kit is stocked and well-maintained.
To generate your own electricity during an extended power outage, consider the ways you can reduce your reliance on the grid. Rooftop solar, home stationary batteries and even EVs equipped for bidirectional power flow can all provide power during an emergency.