Twenty years ago, architect Katrin Klingenberg broke ground on the first passive house in the country. By 2009, there were about 10 passive house projects in the US; 250 in 2016. The Passive House Institute US (Phius)—the training and certification non-profit Klingenberg founded in 2002 and runs to this day—estimates builders will submit 11 million square feet of construction in 2022 alone. "We're experiencing a hockey-stick growth curve for certifications," she says. "It's incredibly exciting."
Back up. What's a passive house?
Simply put, it's a super-efficient and comfortable building. And any kind of construction—not just houses, but apartment complexes, commercial structures, skyscrapers—can be considered a passive house building, as long as it adheres to the five principles of building science:
Continuous insulation through the building's entire envelope—what separates the inside from the outside—keeps it warm when its cold and cool when its warm, and improves soundproofing, durability and building resiliency.
Airtight construction stops outside air from getting in and conditioned inside air from getting out. Air leakage means more energy use, cold and drafty rooms, and moisture and condensation problems.
High-performance glazing on windows and doors further reduces heat flow. Furthermore, solar heat gain through thoughtfully positioned windows can be used to warm the interior during the winter, and be counteracted by shades in the summer.
No thermal bridges. Heat moves from hot areas to cold ones, taking a path of least resistance. That path is through an object that is more conductive than the material around it, creating a thermal bridge—and a major source of energy loss. Wall studs, window casings, and how a wall meets a balcony are all examples of potential thermal bridges.
Since passive houses are airtight, balanced ventilation is needed to bring in fresh air and push out pollutants, smells, moisture and carbon dioxide. Heat recovery ventilators remove old, moist air and bring in fresh air while extracting heat from the exhausted air (during the winter) to avoid having to expend energy to heat up the fresh air.
Buildings that achieve extreme energy efficiency can be submitted for certification by a body like Phius. "We were founded as an affordable housing development organization," explains Klingenberg, "but we quickly refocused our mission from building these homes to teaching others how to build them." Teach a man to fish sustainably, and all that.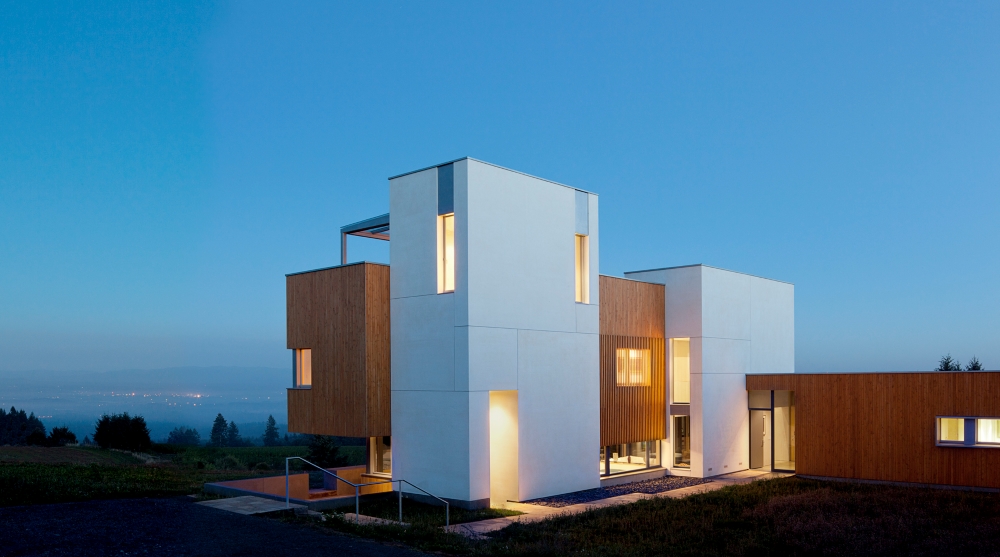 What are the benefits of passive house design?
Passive house designs can reduce energy consumption for heating and cooling by as much as 75 percent compared to new builds, and up to 90 percent compared to existing stock. And because of the super-insulated, airtight envelope, comfort (no cold spots!) and air quality (no dust!) are improved. High-performing ventilation systems remove moisture and odors from the home, while optimized windows, doors and walls reduce sound transmission. According to the Phius website, being in a passive house-certified building is like "driving a luxury car."
Passive house design is also predictable. As a practice that's grounded in building science and computer modelling, it doesn't suffer from the "performance" gap that sometimes plagues other green buildings that don't live up to the hype. "Modelling tools have become so sophisticated," observes Klingenberg. "With super-computing, we can identify the sweet spot, where you should stop investing in insulation, to prevent heat loss and start investing in solar heat gain."
Tech spotlight: Air quality monitors

"We're interested in the intersection of health and passive house, so we're installing air quality monitors in all our projects now. It matters that the materials we specify are healthy for building inhabitants, but also for those involved in their manufacturing and their end of life. Our fascination of the moment lies in designing for deconstruction." — Ruth Mandl and Bobby Johnston, principals at CO Adaptive Architecture
Does that mean building a passive house costs more?
Not as much as people think. Currently, the costs of constructing a passive house design are about 3 to 5 percent higher than a conventional home, according to Phius. Though other experts estimate the premium as much as 15 percent, all are in agreement that with increased adoption and widespread availability of high-performing components, costs are coming down every year. And in many states, tax rebates and other financial incentives are available to homeowners who take steps to make their homes more sustainable.
However, according to the Zero Energy Project, a non-profit educational outfit that helps home buyers, builders and designers reduce their carbon emissions and energy bills, the idea that high energy performance comes at a high price is a persistent myth: "Zero-energy homes cost less to own, offer consumers an immediate return on investment from the first month, and that investment is supported by a higher market value."
Passive houses are not necessarily zero-energy, which refers to buildings that produce at least as much energy as they consume. But because of the heavily reduced energy profile, passive house design is a good way of getting there. "It's definitely the most cost-effective way to get to zero energy," says Ryan Abendroth, a senior lecturer in architecture at the Sam Fox School in St. Louis and the principal of Passive Energy Designs, a Missouri-based consulting firm. "You could off-set your consumption in a standard build with 20,000 solar panels, or save energy upfront and implement a more modest system."
Can you retrofit an existing home to passive house standards?
Absolutely. In fact, there are passive house design firms whose sole focus is exactly that, like CO Adaptive Architecture. "Our existing building stock is a treasure trove of embodied carbon," explain Ruth Mandl and Bobby Johnston, principals at the Brooklyn studio. "But it also contains so much beauty that it would be a shame to lose, or not take with us as we electrify and decarbonize. Waste and carbon are inextricably linked."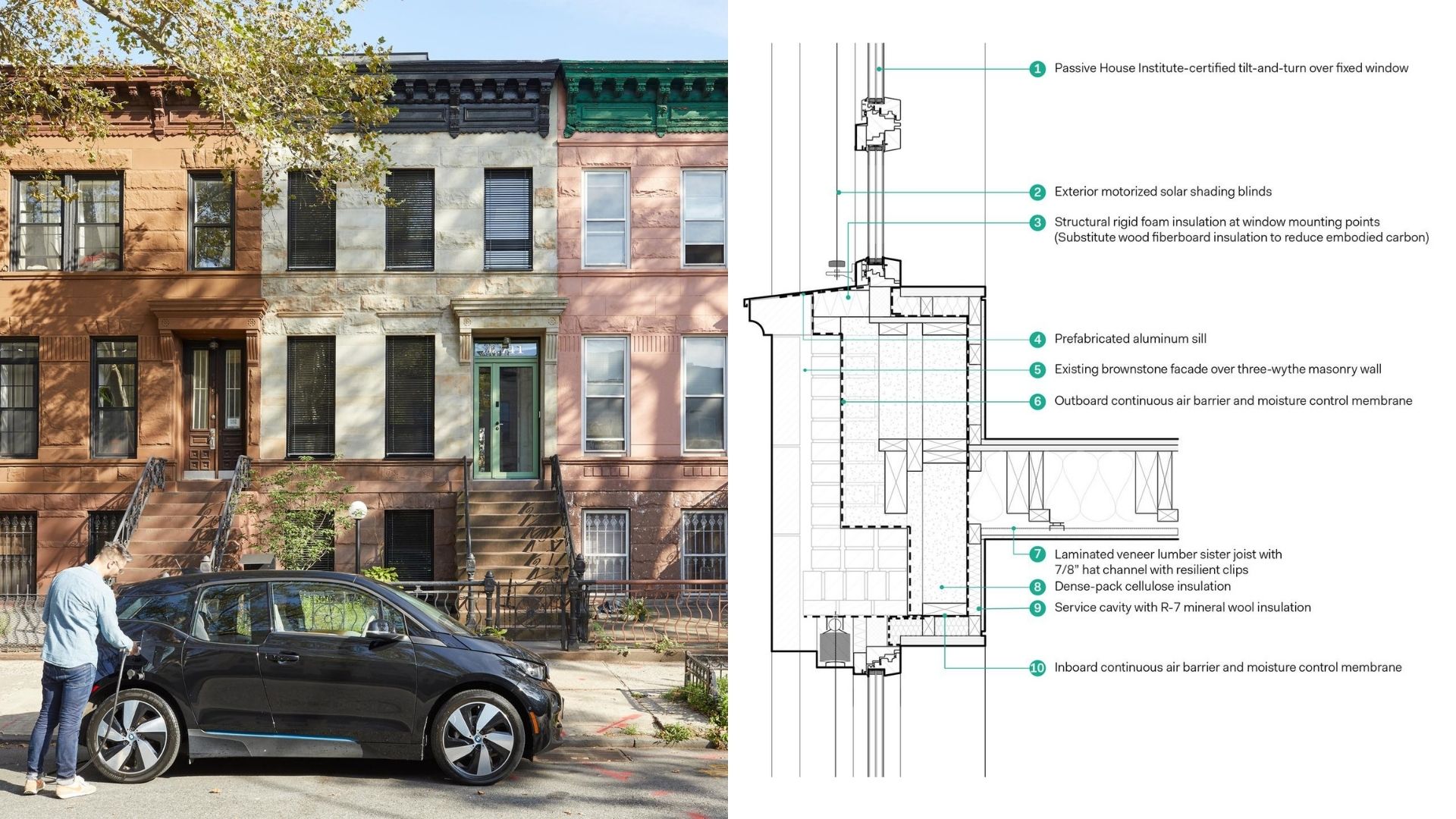 It's an ethos echoed by Corey Saft, a professor in the School of Architecture and Design at the University of Louisiana at Lafayette and a proponent of cost-effective architecture. (He also built the first passive house-certified home in the hot/humid zone of the American South.) "Our house has these great hundred-year-old cypress windows," he says, referring to his own home in southern Louisiana. "But they're single pane, and loosely fitted." Just sealing around windows and doors to decrease your infiltration rate—"there's no need for triple-pane windows down here," he notes—will drastically improve the situation. "Where does air leak in and out?" is a question Saft suggests homeowners ask themselves when assessing the efficiency of their dwelling.
According to Mandl and Johnston, additional upfront renovation costs—usually between five and ten percent compared to standard construction—are paid back within seven to ten years. "And that's not considering yet that the price of energy will continue to rise," they add. "Thinking sustainably and regeneratively requires thinking long term. It would be great if this was considered upfront in a lending process, as passive houses are proven to represent the lowest cost of ownership."
How should you tackle a passive house-style renovation?
While building from scratch or doing a total gut might be the most straightforward way to apply the principles of passive house design, a phased renovation might be more realistic for most. "You can take lots of steps to improve the situation without breaking the bank," says Saft. His advice to homeowners is to start the process whenever their home's exterior siding is in need of substantial work. "Once you're in there, you can insulate easily, and seal the house off from the inside wall," he explains.
But the CO Adaptive team has a request for retrofitters redoing their insulation. "Please avoid foam," they urge. "There are so many great insulating materials—fibreboard, wool, hemp—that do not rely on the very fossil fuel industry we're trying to break away from."
Tech spotlight: AeroBarrier, an air sealing technology
"If you can air seal, that's probably your biggest bang for your buck, and new products like AeroBarrier make it achievable with very little skill or labor. I'm working on projects in Houston and other areas of the South that have typically been challenging, but AeroBarrier magically seals up penetrations like attics that are usually very difficult to seal. It has such wide applicability." —Ryan Abendroth, senior lecturer in architecture at the Sam Fox School in St. Louis and the principal of Passive Energy Designs
Are passive house designs more durable?
"Many of my clients are in this for the long-term," says Abendroth. "They want somewhere to live, raise a family, retire, then pass on to their children." Thanks to powerful computer modelling, high-quality building components and the basic design principles of passive house, these airtight, well-ventilated buildings are extraordinarily durable and low-maintenance.
There's also the question of where you're putting your money. "Rather than investing in active systems with less longevity," explain Mandl and Johnston, "you're essentially investing in the thermal envelope of a building, which has a lifespan of 50 years or more."
Tech spotlight: Split stand-alone dehumidifiers
"Standalone dehumidifiers are great, but because there's a motor in there, they put heat back into the system while they're sucking the moisture out. If you have a small passive house that you're trying to dehumidify, you're not gaining much. But a decade ago, they came out with a split stand-alone dehumidifier, which takes the heat out of the house. It's a game changer." —Corey Saft, professor at the School of Architecture and Design at the University of Louisiana at Lafayette
How does solar energy work with passive house design?
Residential solar energy and passive house design is a combination that Klingenberg is incredibly excited about. "Passive technologies result in buildings with hugely reduced energy consumption," she explains. "From there, it's a very small step to add a small, efficient solar photovoltaic (PV) system that can power your entire home." Add to that an energy management tool and a good battery—like an electric vehicle—and you're essentially at net-zero. "And that was the dream, when we first started Phius," says Klingenberg, referring to the goal of buildings that only use as much energy as they produce.
Abendroth is equally enthusiastic. "Almost all the single-family projects I do can get to zero energy with a modestly sized solar system—some only need five or six kilowatts," he says. A PV system of that size would take about 255 to 285 square feet of space (or roughly six king-sized beds).
Tech spotlight: Direct current (DC)
"We're working on a tiny home prototype that will run entirely on DC, and there's a new technology that will make home wiring much easier and more efficient (using 93 percent less copper) by using DC. And solar power is DC. Why would we go to the trouble of converting everything inside the home to AC if it can run on DC and be powered by the sun?" —Katrin Klingenberg, founder and executive director of the Passive House Institute US (Phius)
What's next for the passive house industry?
According to Klingenberg, nothing short of a paradigm shift. "Centralized utility will go away," she explains. "Passive house technology, combined with solar energy and a way to store it—that's the next new grid," she says, referring to a system where decentralized producers aggregate over-production. Klingenberg recognizes that a major hurdle to this new way of doing things isn't technical, but human. "It's a big change—and people don't like change," she acknowledges. "But this model is actually profitable. And it's democratizing energy."