From a Mexican design retreat that runs entirely on solar power to an ambitious culinary destination hidden deep in the almost untouched forests of Montana, here are four of the best (and best-looking) new eco-hotels.
Hotel Terrestre
Puerto Escondido, Mexico
Opened: February 2022
Nestled in the scrubby hills 45 minutes from Puerto Escondido, on Mexico's Oaxacan coast, Hotel Terrestre is an otherworldly, hyper-local new offering from tastemakers Grupo Habita. Everything here is homegrown, from the locally handcrafted bricks to the open-air restaurant's traditional-with-a-twist menu. The walkways are lined by indigenous copal trees, a testament to the hotel's architect Mexico City's Alberto Kalach, who seems to have created a building you're meant to forget is there at all.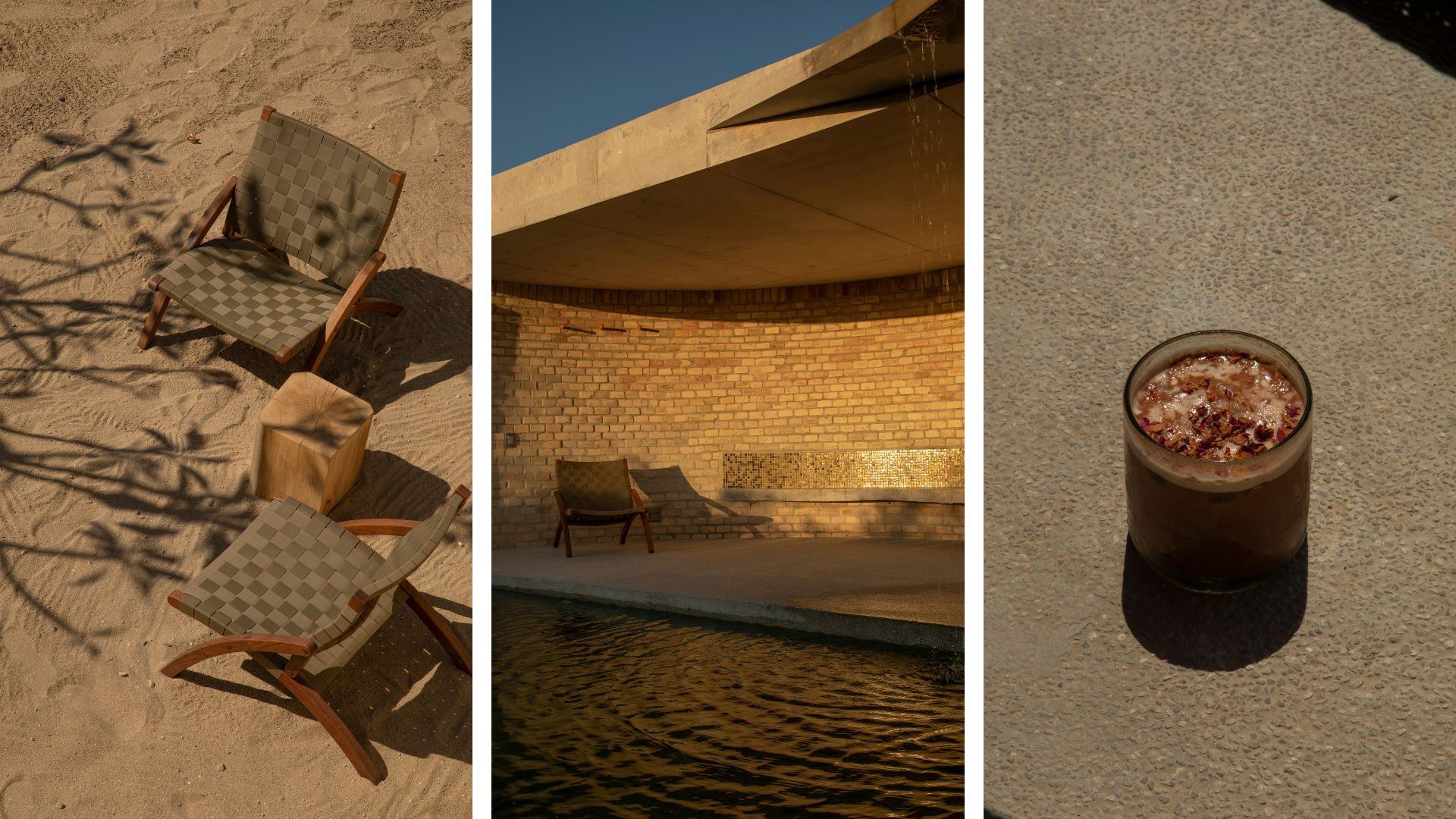 It's very much of the elements, with 14 earthy, Brutalist villas set into the windswept Sierra de Oaxaca. Water permeates the property in private plunge pools, garden ponds, open-air showers, a hammam-style spa and, never to be outdone, the Pacific Ocean, which is right there. Solar power runs the entire complex, which manages to look like it's always been there while also seeming as though it was sent from the future to show us a better way to live. There's no air conditioning and no need for it, with fresh sea breezes aplenty. And in a lot of places, there's no floor, just the sand between your toes.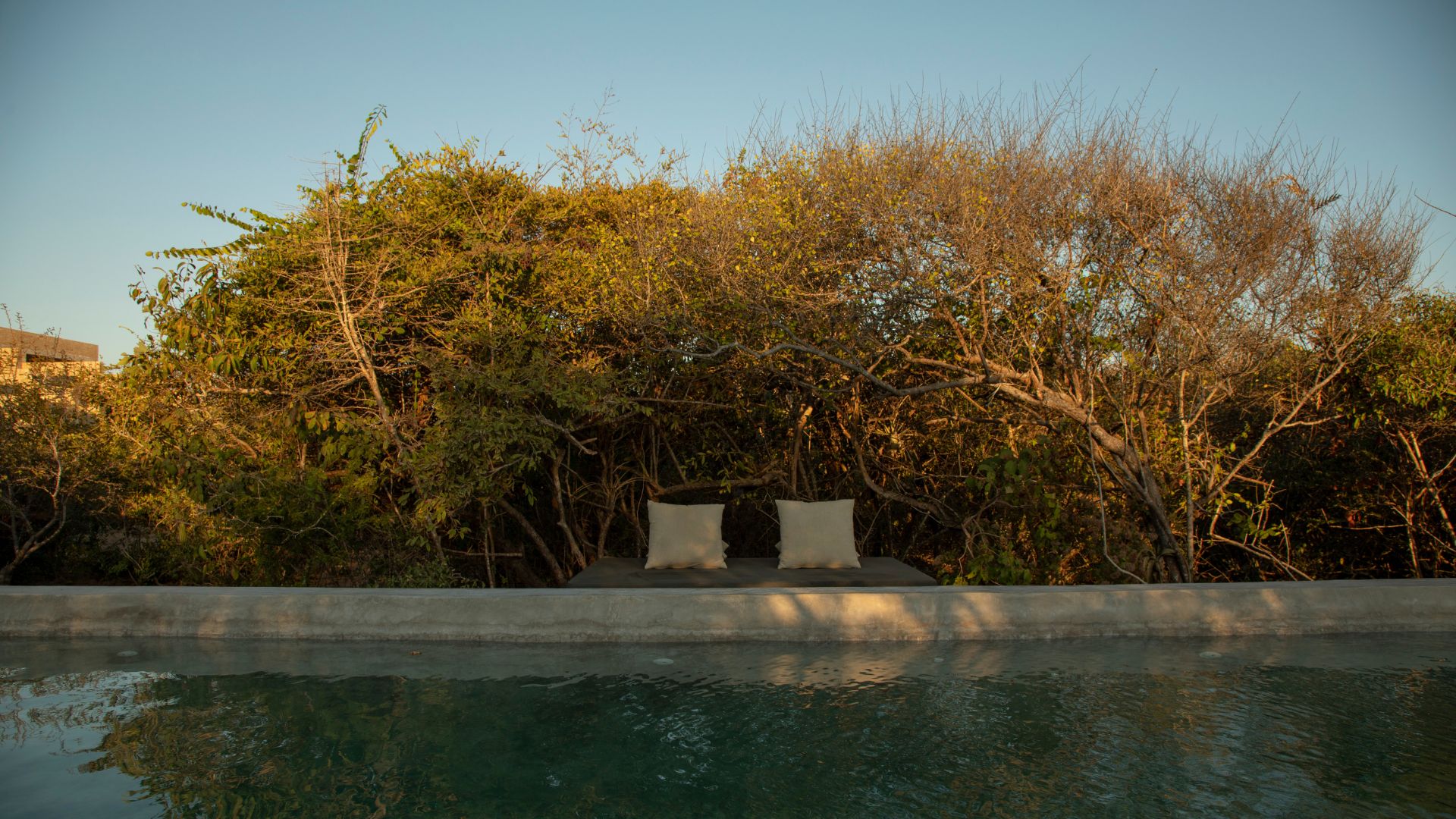 Though Terrestre might feel like it's on a whole other (better) planet, it actually shares the beach with some equally high-falutin' (and sustainably-minded) neighbors. Take a stroll through the sprawling art foundation Casa Wabi, which is home to exhibitions, courses and artists-in-residence, who must engage in a local project and are chosen, in part, based on the social good their work does. After dinner under the palapa at nearby Hotel Escondido's Kakurega Omakase, acquaint yourself with the local spirit of choice at Cobarde, a tiny bar at the end of a dirt road specializing in weird, wild, small-batch mezcal, before beaming yourself back to planet Terrestre.
The Green O
Greenough, Montana
Opened: June 2021
Leave it to the team that gave us glamping to redefine the treehouse. At Montana's Green O, they're 15 feet high, two-storied, double-decked affairs equipped with an outdoor hot tub, an indoor soaking tub, an ultra-modern kitchen and, of course, a glass-encased central spiral staircase. But the property's four Tree Hauses aren't up there just for the view. All of the Green O's accommodations (there are also four Green Hauses, three Round Hauses and one highly coveted Light Haus) were built raised off the forest floor, on sites carefully chosen to be as low-impact as possible. (Two mature ponderosa pines were cut down in the process.)
When you're feeling peckish, make your way—on foot or by bike—to the Social Haus, the open-kitchen restaurant organized around a central fireplace that's at the heart, literally and figuratively, of the Green O. (Its 24 seats are just enough to accommodate each guest when the resort is at capacity.) Dinner is an eight- or nine-course live-fire tasting menu that changes almost daily depending on what's on offer and chef Brandon Cunningham's whims.
This kind of luxury-in-the-wilderness is a level up even for the owners of Paws Up, the 37,000-acre working ranch and resort that envelops the Green O, and which is for the kind of traveller whose idea of R&R might include a cattle drive. Adventure's on the menu at the Green O as well—dog sledding, horseback riding—as are more sedate activities, like horse-whispering with rescued mustangs or, for a different kind of immersive experience, having a gourmet pizza delivered to your hot tub.
Habitas Santa Teresa
Santa Teresa, Costa Rica
Opening: Fall 2022
A stay at Habitas Santa Teresa will be all about living the pura vida, and here—in a beachfront jungle on the tip of Costa Rica's Nicoya Peninsula—that'll mean surfing, yoga, bonfires, sunset and fresh food. Oh, and pura adrenaline, in the form of hydrofoiling, ATV "surfaris" and snorkeling a submerged volcano. When it opens later this year, it will be the newest offering from Habitas (the eco-friendly hospitality group currently has five properties, with 24 more in the pipeline) and its first in Costa Rica.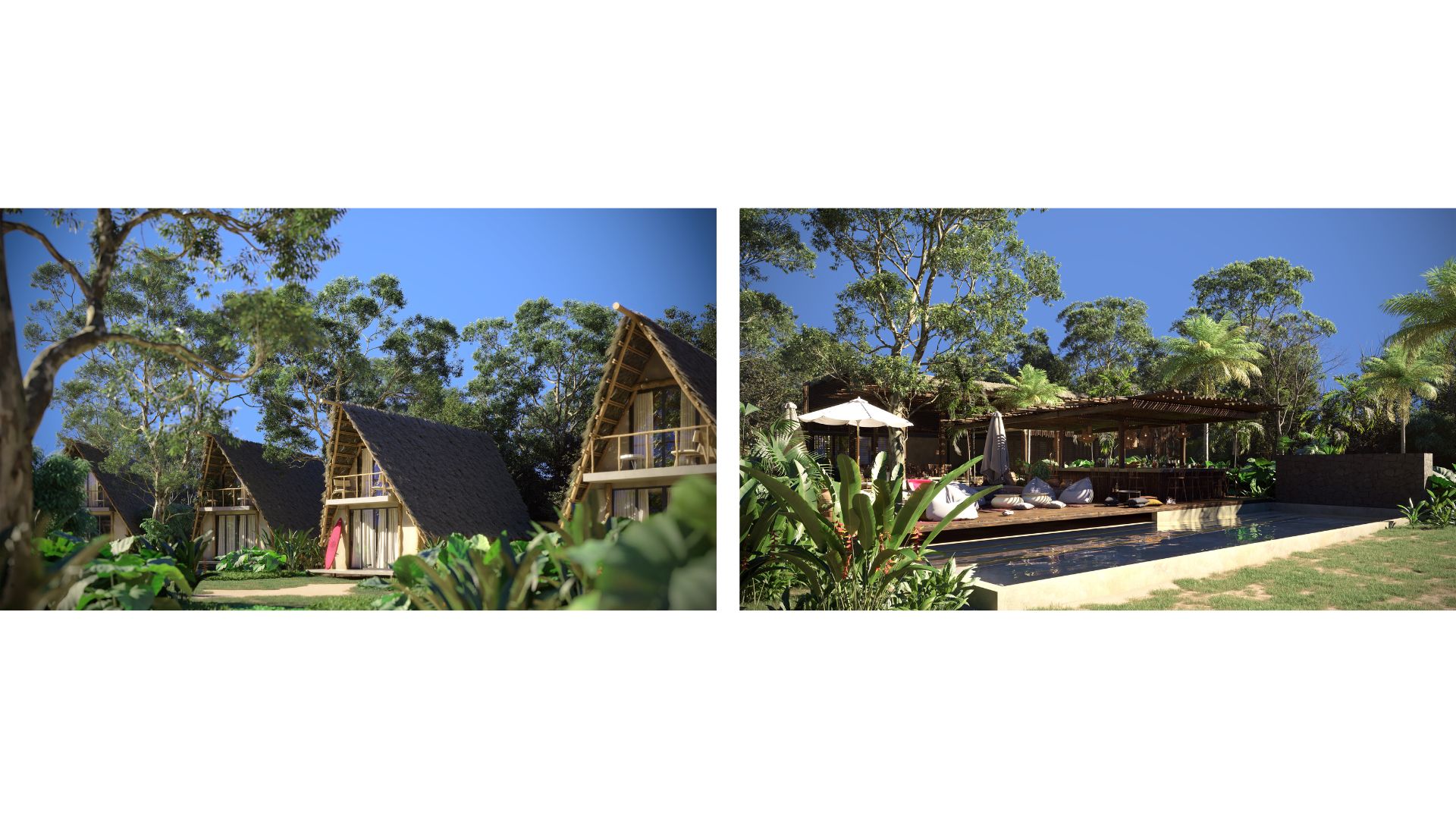 It's a match made in sustainability heaven: The country has long been a pioneer in green tourism, and since launching in 2016, so has Habitas. They built their own factory in Mexico, where they design, construct and flat-pack hotels before shipping them to the site for assembly. The result? They cut down the time it takes to get a hotel up and running from five years to nine to 12 months. And they're doing things differently on-site too, building around the large Ceiba trees native to the region and on screw piles to ensure all structures are removable so the land can be left in pristine condition. With surf lessons for all abilities—the property is on one of the best surf breaks in the region—sound meditation, a health-conscious restaurant and Habitas' signature clay and honey massage treatments, you'll also feel pretty pristine after a stay at Santa Teresa.
SCP Seven4One Hotel
Laguna Beach, California
Opened: October 2021
Tucked behind a lush, multihued living green wall, and located in between two iconic SoCal beaches, this midcentury marvel is transforming itself into a model of sustainability and wellness. Acquired late last year by the sustainability-focused hospitality group SCP, the Seven4One is a 12-room gem just 250 feet from the ocean. The 1940 property is the group's seventh, and its second in Laguna Beach – SCP also acquired the iconic Laguna Riviera Beach Resort in 2021. They've since decided to move their headquarters to the surf town. (Why wouldn't you?)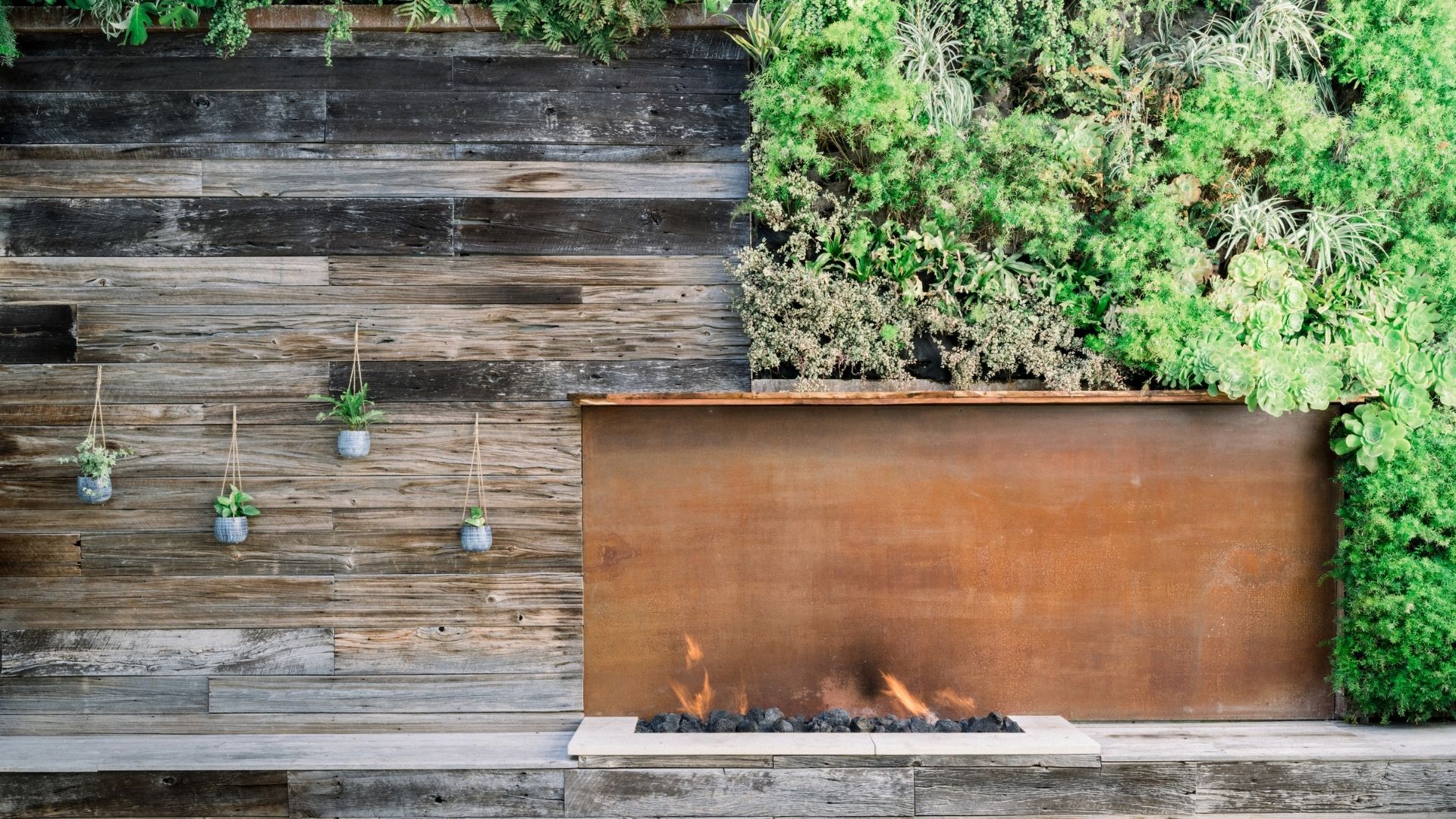 The holistic hospitality group is in a (conscious) growth mindset, aiming for 25 properties by 2023, all the while pledging to go zero-waste this year, overhauling their menu to focus on fresh, plant-centric ingredients and incorporating new energy-efficient systems and solar power across their portfolio. They've also partnered with EarthCheck, the travel industry consultancy and certifier, to help benchmark their progress along the way. SCP's motto is that "every stay does good," and they want to apply that to rest, too, so—be warned—you won't find any sleep-distracting electronics like clocks or TVs in the rooms.
After waking fully rested and restored from your impossibly peaceful night's sleep, grab a smoothie from the Orange Inn (they claim to have invented them), before meandering down to the water. You have your pick of beaches: Cleo Street Beach is a local favorite for strolling and scuba-diving (there's a sunken barge just off shore), while a shallow incline and under-the-radar status make St. Anne's a choice destination for families looking to laze the day away. Back at the hotel, watch the sunset from the second-story wrap-around deck before checking out the surf town's art scene – there are over 100 galleries in Laguna Beach.