Did you know that solar-powered vehicles exist? One of the top showcases for this technology, the Bridgestone World Solar Challenge, dares engineering teams from around the world to bisect the Australian continent in an 1,800-mile trek using solar vehicles fabricated in-house. Make no mistake: as experimental prototypes, these race cars are not nearly as comfortable, practical, or safe as the car you're currently driving. But the R&D spurred by competitions like these can be applied to make mass-produced vehicles more efficient. Here's what we can expect from this breakthrough technology in the years to come.
The next frontier
The sun is the most abundant energy resource we have on our planet, and harnessing as much of it as possible is key to reducing greenhouse gas emissions. From an efficiency and cost perspective, today's solar panels are well suited for residential applications. Typical crystalline silicon photovoltaic cells convert anywhere from 18 to 22 percent of sunlight into electricity and are becoming increasingly affordable.
Constructing a solar-powered vehicle is the next frontier in many ways. Engineering solar panels to conform to demanding weight and aerodynamic standards is no small feat. But the bright young minds that participate in solar challenges around the world are more than happy to devote themselves to the pursuit of excellence in this domain. With the help of stakeholders in the energy, automotive, engineering, financial, material sciences, and IT sectors, competitors extract as much efficiency out of their vehicles as possible and embark on the journey of a lifetime. The 2019 World Solar Challenge was captured in a six-part YouTube docuseries called Light Speed. It provides a dramatic look at the highs and lows of the race through the hot and unforgiving Outback, in which teams spend their days driving and their nights camped in the wilderness.
The sun rises on a new era
Early solar powered vehicle designs did not incorporate a battery. Prototypes were initially geared to have a photovoltaic panel connect directly to the drivetrain. This meant that when the sun was not shining directly on the vehicle, it would not be able to advance. A vehicle design that relies completely on solar energy for propulsion is not realistic; some sort of backup system is required to make the car practical.
The first vehicle to cross Australia using solar power was the Quiet Achiever in 1982. It was a one-horsepower bathtub-shaped vehicle that traveled at an average speed of 19 miles per hour. A total of 720 solar panels charged two 12-volt automotive batteries which powered a DC motor in turn. Driver Hans Tholstrup encouraged others to carry the torch and push the boundaries of solar powered vehicles. Thus, the World Solar Challenge was born.
Cutting-edge technology
Fast forward to today and the vehicles that enter the contest are incredibly sleek and powerful. They have adopted shapes that minimize drag and innovative film wrap coatings that better redirect airflow. Interestingly, the majority of victorious World Solar Challenge vehicles feature a multi-fairing "catamaran" design. Wheels are spaced further apart, which increases drag, but also improves stability. Enhanced grip is important, because it's not uncommon for these super-lightweight cars to lose control at high speeds.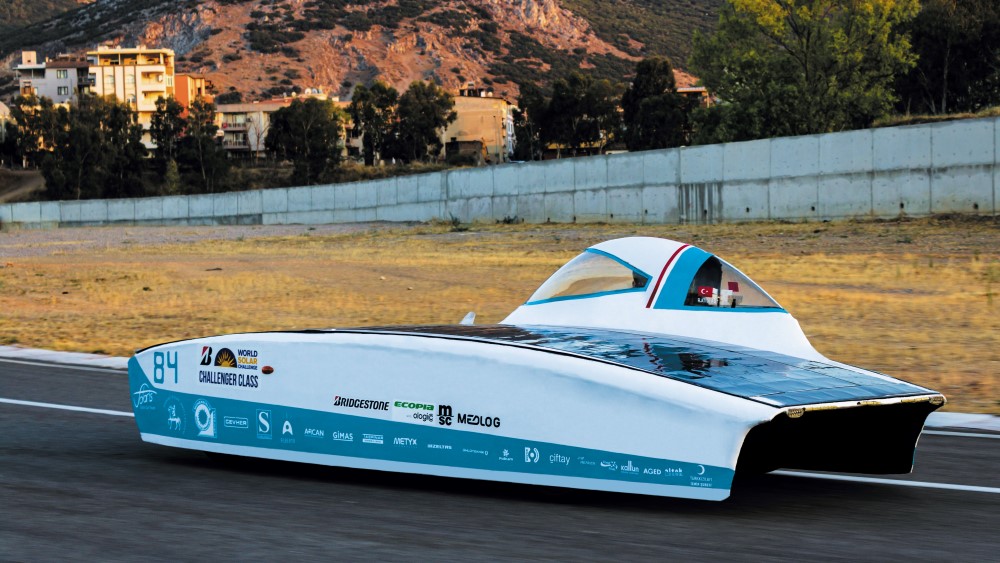 Photo by Ahmet Batuhan Günaltay on Unsplash
On the tech side, these vehicles are pioneering the use of a new kind of solar array along with cutting-edge lithium-ion batteries. Gallium-arsenide solar panels are starting to play a central role in the race thanks to their improved efficiency over their silicon counterparts: They can convert nearly 30% of sunlight into energy, which is channeled to onboard batteries for storage. The drawback is cost, as 38 square feet is worth $100,000. For comparison, a slightly larger silicon-based panel would only cost $3,000.
Hybrid solar cars hitting the road
Everyday vehicles are around ten times heavier than solar race cars, and demand a lot of power too. These are massive limitations to overcome, which makes it all the more inspiring to see concrete interest in making solar vehicle technology viable in real-world applications. Major carmakers like Hyundai and Toyota have found ways to incorporate solar panels into their vehicles.
Hyundai's latest hybrid Sonata features silicon solar panels integrated into the roof. The manufacturer says the panels can charge 30 to 60 percent of the battery per day, edging fuel consumption down at a respectable rate.
In 2019, Toyota began public road trials of a special Prius plug-in hybrid vehicle outfitted with solar panels on the roof, hood and rear hatch that boast a 34% power-efficiency rating. They can produce as much as 840 watts to add around 30 miles of range.
More radical vehicles that put solar propulsion front and center are being conceived and designed by a number of startups. A Dutch company is slated to begin delivering its inaugural electric vehicle, called Lightyear One, in 2022. The car boasts nearly 11 square feet of solar panels that can provide up to 43 miles of range per day, and an aerodynamic shape inspired by solar racers.
Sono Motors is another company looking to revolutionize this space through its unique injection-molded solar cell technology that replaces automotive paint. Photovoltaic panels are seamlessly incorporated into the body of the vehicle, in this case a hatchback called Sion. Watch for this car to hit the market in 2023.
A couple of small American companies are also on the cusp of releasing their solar EVs. Respected automotive designer and entrepreneur Henrik Fisker's latest endeavor, an electric SUV dubbed Ocean, will feature solar panels that run the length of the roof that can provide 1,000 miles worth of free electricity per year.
Lastly, Aptera Motors out of San Diego is proposing a vehicle that would not look out of place next to the winningest World Solar Challenge racing cars. The two-seater, three-wheeled car is equipped with 700 watts of solar power that promise around 40 sun-powered miles per day. Amazingly, while the car weighs 65% less than a traditional EV, the driver is protected by a safety cell that's seven times stronger than steel thanks to a robust eggshell shape and the use of advanced composite materials. Whether drivers warm up to the unconventional styling remains to be seen. If the car becomes a hit, the hyper-efficiency pursuits of solar racers will become mainstream in a significant way.
A bright future
EVs that leverage solar power are set to become commonplace in the near future. With competitions that push the limits of this technology flourishing around the world, and carmakers finding innovative ways to integrate the solution, EVs are poised to be powered by renewable energy on a wider scale than ever before.
Sources:
Introducing Light Speed: Powered by the Sun (YouTube)
https://www.groupninemedia.com/press/youtube-originals-greenlights-light-speed-a-new-scientific-learning-series-from-seeker
https://www.nma.gov.au/explore/collection/highlights/quiet-achiever-solar-car
https://www.worldsolarchallenge.org/about/history
https://cars.lovetoknow.com/List_of_Car_Weights
https://www.hyundai.news/eu/articles/press-releases/hyundai-launches-first-car-with-solar-roof-charging-system.html
https://global.toyota/en/newsroom/corporate/28787347.html
https://www.assemblymag.com/articles/96333-automakers-are-developing-solar-powered-vehicles
https://lightyear.one/technology
https://thedriven.io/2020/03/05/fisker-ocean-electric-suv-has-solar-roof-that-adds-free-1600km-a-year/
https://www.aptera.us/vehicle/
Photo by Lance Asper on Unsplash